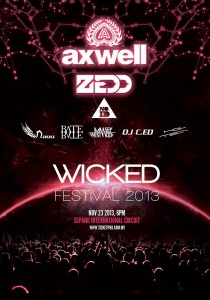 In 2009, Skrillex discovered a young prodigy whose music embodies the evolution in Electronic Dance Music and signed him into his label, OWSLA. Along the way the young prodigy has produced tracks for the likes of Lady Gaga, Black Eyed Peas, P. Diddy, Swedish House Mafia, Skrillex, Eva Simmons, and was also awarded Billboard #1 dance track of 2012.Today, his performance mesmerize millions in mega festivals like Tomorrowland, Stereosonic, Lollapalooza, Ultra and many more.
His name is Zedd. And he is coming to Malaysia.
Heeding the calls of thousands who long to witness this prodigy for the first time ever in East Asia, Wicked Entertainment proudly unveils Zedd as the first Star of the Wicked Festival 2013. Two super EDM artistes leading a horde of mind blowing talents, Wicked Festival is all about the journey and the experience.
Axwell, the King from Swedish House Mafia pilots the crew. Who else but him can lead such a Wicked Festival? Who else is going to save the world tonight? Well, Zedd is. For the very first time in East Asia, this young prodigy will hit our stage and shed us some clarity. The magnitude of talents will melt your brains as No_ID from Amsterdam takes the stage along with DJ Nikki, BATE, Hightech, Ramsey Westwood and Captain Ed. The punches will come, blow after blow, one after another, all in a single night. Again, this is not for the faint-hearted.
The last true music festival of the year: November 23rd, Sepang International Circuit