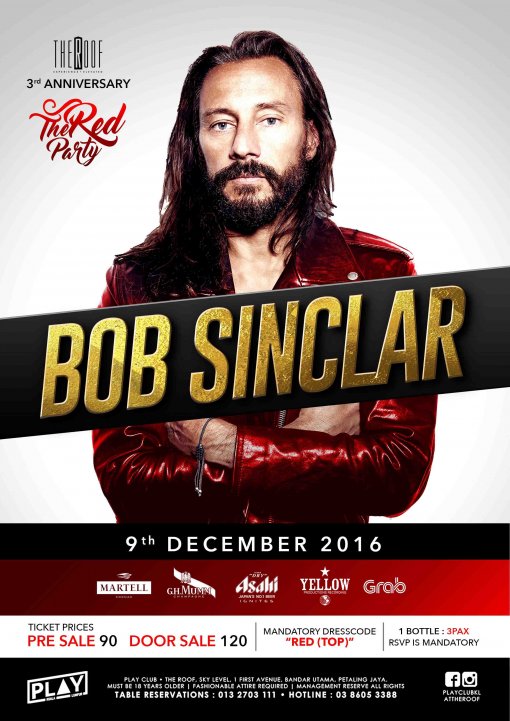 The Musical International Man of Mystery himself, a living legend in the house music industry, Bob Sinclar will be making his way to Play Club KL as he'll be hosting "The Red Party" in conjunction with The Roof's third anniversary on the 9th of December, 2016 (Friday)!
Started off his career at the tender age of 18, Christophe Le Friant went by many names as he experimented with different genres to find his own unique sound, including Chris the French Kiss, Desmond K when he was a member of "Reminiscence Quartet" and then later on finding his ultimate alter ego, Bob Sinclar, from watching the Phillippe de Broca classic French Superspy movie "Le Magnifique".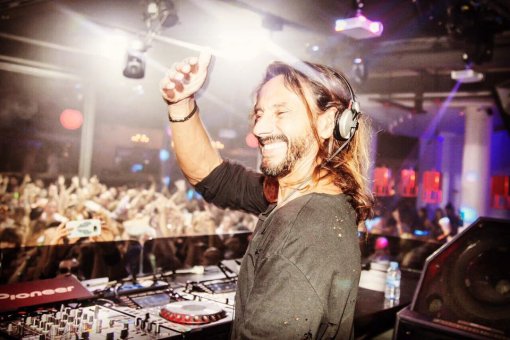 At the age of 24, Sinclar founded French label 'Yellow Productions' alongside Alain Ho aka DJ Yellow in 1993, and never looked back. With his label he then released eight albums throughout the years which included tracks like "World Hold On", "Love Generation" and "I Feel For You" that brought in skyrocketed success that made him the household name that he is today.
With an unconditional love for music in general, Sinclar's tunes can be described as French house music with heavy sampled and filtered disco strings with a reggae fusion. He found himself inspired by Hip Hop and Jazz, spending years experimenting and fusing different genres. In 2010, he touched base in Kingston, Jamaica to work with world renowned producers Sly and Robbie to give a creative twist on some of his biggest hits, a reggae flavored reworking.
Emphasizing his love for reggae, Sinclar also started the celebrated "Africanism Movement" which was based on the black roots of reggae, hip hop, funk and acid jazz, with fellow French up and coming artistes such as Martin Solveig, David Guetta, DJ Gregory, NaSSau, Julien Jabre and so many others which then released "Slave Nation", "On The Drum" and "Bisou Sucre", proving his versatility in the music scene.
"The Red Party" is no stranger to PLAY patrons as it is an annual affair ever since PLAY opened its door 3 years ago. Many A-list performers have hosted the annual affair, such as Sky Blu (the other half of LMFAO) performed in 2014 and Far East Movement gracing the PLAY stage last year in conjunction with The Roof's second anniversary. Early June this year, Redfoo and his party rock crew shuffled their way through the doors of PLAY and now in conjunction with The Roof's third anniversary, "The Red Party" is guaranteed to be bigger, better and mind-blowing with French legend – Bob Sinclar.
Pre-sale tickets are available now at RM90 (including 1 drink) while door-sale is at RM120. Doors will open from 10pm onwards and is supported by local DJs – Reeves, Edz & MC Noixe. Don't forget to dress in RED as those not in red will be refused entry. Bottle packages and promo pricing are also available. For more information, kindly log on to www.facebook.com/PlayClubTheRoof.
For reservations and further inquiries, please call 013 – 2703 111 or 03 – 8605 3388.