AIA Bhd. is proud to announce its Lead Sponsorship of 
Taylor Swift's sold-out concert in Kuala Lumpur on 11 June 2014, as part of The RED 
Tour presented by Cornetto. 
To add to the excitement in the weeks leading up to the concert, AIA Bhd. today launched 
a contest on its Facebook page www.facebook.com/AIABhdMalaysia to invite 
participation from Taylor Swift fans interested to win concert tickets and exclusive 
Taylor Swift merchandise. Based on the theme AIA Real Music Never Stops, participants 
are invited to share photos and videos that depict what the phrase "Real Music Never 
Stops" means to them in the most creative way. 
Three lucky winners will get the chance to meet Taylor Swift in person and have their 
photo taken with her. In addition, contest winners will be invited to an exclusive 
countdown event on 31 May 2014 – The AIA Red Party – where they will collect their 
concert tickets and Taylor Swift merchandise. 
AIA will also be collaborating with selected radio stations and publications on a series of 
mini contests for fans to win concert tickets and exclusive merchandise. 
The life insurer's sponsorship of this concert, featuring an international superstar on a 
record-breaking worldwide concert tour, reinforces AIA's commitment to supporting 
contemporary music, and aligns the brand with key demographics – Malaysia's Gen Y 
population. 
Bill Lisle, Chief Executive Officer of AIA Bhd., said "We believe in sharing real life 
experiences with our customers, life planners, employees and the community and hence 
we see this as the perfect opportunity to connect with and bring young people together to share in this exciting experience with AIA because real music never stops!"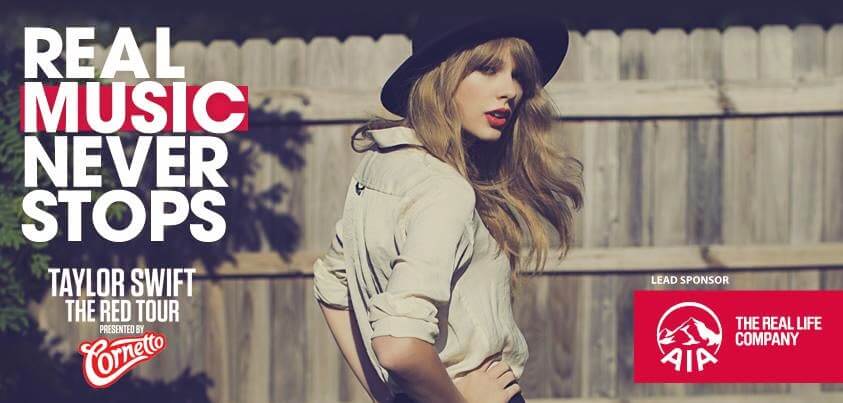 AIA is partnering with AEG Live, one of the world's leading entertainment companies, 
and Parallel Media Group, a leading sports entertainment and media agency, to 
produce the event. 
John Cappo, President & CEO of AEG Asia said, "AEG is proud to be Taylor Swift's global 
touring partner. We are delighted to be working with AIA as the Lead Sponsor of the 
Malaysian performance. This is Taylor Swift's first time to Malaysia — a market where 
she has many fans that appreciate her incredible talent. This is sure to be an exciting 
show and we thank AIA and our partners for their vision and support." 
Following the life insurer's successful presentation of the AIA K-POP concert in Kuala 
Lumpur last June, featuring BEAST, 4Minute and G.NA, AIA is proud to be the Lead 
Sponsor for Taylor Swift's first visit to Malaysia.