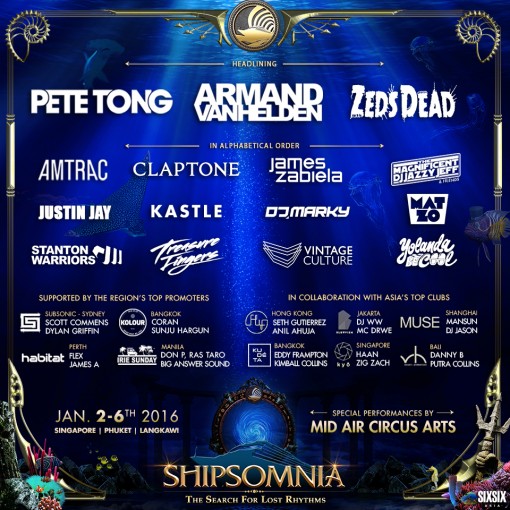 Shipsomnia, the world's first fully themed music and arts festival vacation cruise, is making its global debut with a statement-making line-up comprising more than 40 artists from the United States, United Kingdom, Brazil, Colombia, Australia and Asia including Singapore, Bali, Shanghai, Hong Kong, Jakarta, Bangkok and Manila. The line-up – with the impactful mix of music legends, heavy-hitters, underground sensations, emerging stars and Ibiza favourites – is curated for music lovers.
The US$2.5-million experiential 5-day festival-vacation [with an aquatic mythical theme] will take some 2,400 revelers to the hottest destinations in Asia with one of the world's finest musical sommeliers on the Costa Victoria, which would be propped out with a mythical aquatic theme with a steampunk twist, where legends of the sea come to life.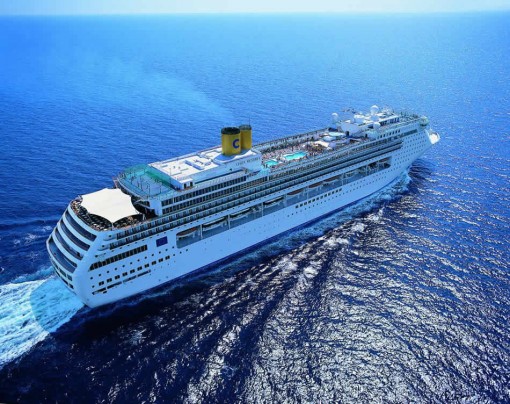 The 5-day, 4-night cruise will set off from Singapore on Jan 2, 2016, to Phuket and Langkawi, and back to Singapore on Jan 6. The maid- en voyage of the annual Shipsomnia is organised by Mad Fresh Events, comprising professionals in the travel and entertainment indus- try from Asia-Pacific, Europe and the United States.
"Shipsomnia's artist line-up isn't based on a Top 100 DJ list. Our music policy is strictly based on music, talent, and the direction we'd like to see on Shipsomnia. We're leaning more towards an Ibiza vibe," says Alessandra Maderni, Co-founder and CEO of Mad Fresh Events.
THE POWER-PACKED LINE-UP
The full artists line-up will feature some of the world's biggest global acts. Shipsomnia's heavy- weight headliners are Armand Van Helden [US], house legend and BBC Radio 1 host Pete Tong [UK] and Zed's Dead [Canada].
The star-studded roster also includes Claptone [Germany], James Zabiela [UK], DJ Jazzy Jeff [US], DJ Marky [Brazil], Mat Zo [UK], Stanton Warriors [UK], Treasure Fingers [US], Vin- tage Culture [Brazil], Yolanda Be Cool [Australia], Kastle [US], Amtrac [US] and Justin Jay [US]. These tasteful music selectors cover a diverse genre in electronic music from House, Drum+Bass, Electro House, Hip-Hop, Techno, Breaks, and more.
They will be joined by more than 20 of their Asian and Australian counterparts from the top clubs and party promoters/labels in Asia and Australia, who would bring their unique sound
to the festival-cruise – from nightclubs kyo [Singapore], Fly [Hong Kong], M2 [Shanghai], VH [Bali] and Blowfish [Jakarta] – which were part of Shipsomnia's multi-city Asian club tour in May and June this year – alongside underground party promoters/labels Kolour [Bangkok], Irie Sundays [Manila], Sub Sonic [Sydney] and Habitat (Perth).
In total, Shipsomnia will feature more than 40 DJs, plus contortionists and aerialists from Mid-Air Circus Arts, on its power-packed showcase.
Shipsomnia's Co-founder and Director Jay Slangen adds: "The brilliant thing about Shipsomnia, which is different than any other festival-cruise, is that even if you know the full lineup, the itiner- ary and all of our activities, there is always an element of surprise."
Limited tickets to Shipsomnia are still available. In just 12 days after its release in late May, 70 per cent of tickets were snapped up. Revellers hail from more than 35 countries.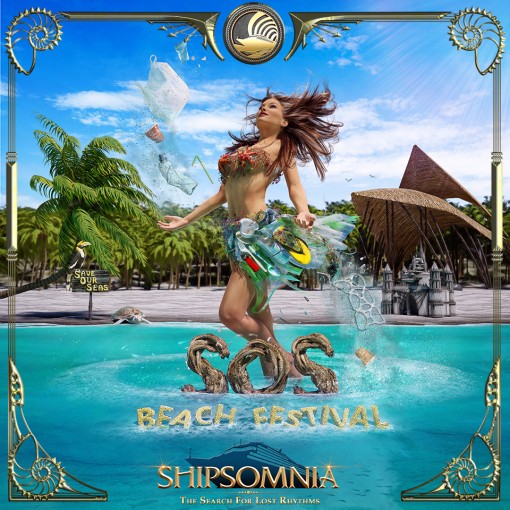 THE BEACH FESTIVAL WITH A CAUSE
Shipsomnia's stop in Phuket will be an exclusive one for Shipsomniacs where the beautiful private island Banana Beach, Koh Hey [Coral Island] will be closed especially for the festi- val-cruise. The beach festival will be held at Coral Island or Koh Hey, as it is known to locals, on the white sand, picturesque Banana Beach.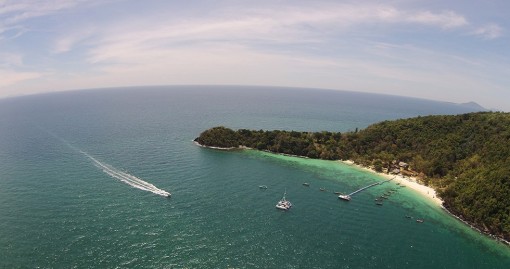 Aptly named the S.O.S. Beach Festival [Save Our Seas], the festival aims to raise awareness on various environmental issues in an artistic and fun way. Participants will accomplish this
by building their art installations and costumes from the trash collected from Phuket's beaches on September 19, which is the International Coastal Cleanup Day. They will work with local schools, the Rotary Club and other volunteers to clean up the beaches of Phuket. They will then wash all the trash, and work with local artist, Pui Ngowsiri, the founder of Love Art Studio and an art village in Phuket, to create art installations.
S.O.S beach festival also has a "Take only pictures, leave only footprints" philosophy. Some of the event proceeds will go to a non-profit, ocean conservation organization in Phuket.
Limited tickets to Shipsomnia are still available. In just 12 days after its release in late May, 70 per cent of tickets were snapped up. Revellers hail from more than 35 countries.
HEADLINERS
ARMAND VAN HELDEN 
He is a New York City based Grammy Award nominated DJ/ Producer/Remixer. Van Helden has produced multiple top 40 hits on the UK pop charts including "U Don't Know Me" [UK pop charts #1], Dizzee Rascal & Armand Van Helden "Bonkers" (UK pop charts #1), Duck Sauce "Barbra Streisand" (UK pop charts #3) and more. He has also produced full length artist albums, Enter The Meatmarket, 2 Future 4 U, Killing Puritans, Gandhi
Khan, Nympho, and Ghettoblaster. To add to that, he has remixed platinum artists including Daft Punk, Sam Smith, Rolling Stones, Katy Perry, Snoop Dogg, Diddy, Janet Jackson, Britney Spears, and Tori Amos. He's one half of the duo Duck Sauce with fellow DJ/Producer A-Trak.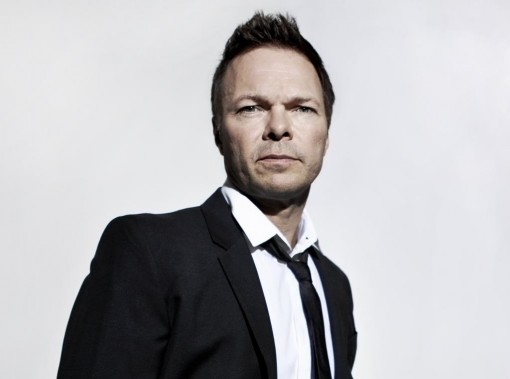 PETE TONG 
There are few individuals in the world of dance music who can claim the kind of influence Pete Tong has had over the last twenty years. As the voice of Radio 1's prestigious dance programming, Pete has held a commanding presence over the industry for more than two decades. His unique position has earned him a reputa- tion as the global ambassador of dance music. While he's known publicly as Pete Tong the DJ, behind the scenes, he's an industry
icon. Pete has recently resettled in Los Angeles to begin a new chapter in his life: "The electronic dance music scene in the USA has reached a critical mass and the opportunities for our world are taking us into uncharted territory. I feel now it's essential to be in the middle of all that."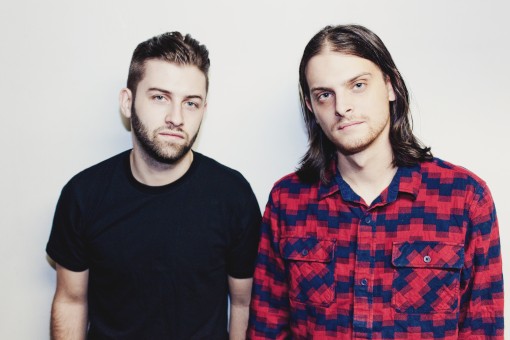 ZED'S DEAD 
Toronto-based dubstep/house act Zeds Dead — named after a line from Quentin Tarantino's 1994 film Pulp Fiction — are a production duo consisting of DC and Hooks. The two first formed in 2004 but they switched to Zeds Dead in 2009, embracing house and the direct, physical side of dubstep. Throughout 2010 and 2011, they were increasingly active. They released material on a number of labels, including Kissy Sell Out's San City High, Steve Aoki's
Dim Mak, and Diplo's Mad Decent; remixed tracks by Blue Foundation and the Electric, and they also toured extensively throughout the U.S. Their first release of 2012 was Adrenaline, an EP issued on Inspected that balanced blitzing dubstep tracks with lower-key breakbeat workouts.
FOR ALL WEB & SOCIAL MEDIA:
WWW.SHIPSOMNIA.COM
WWW.FACEBOOK.COM/SHIPSOMNIA
WWW.TWITTER.COM/SHIPSOMNIA
#SHIPSOMNIA