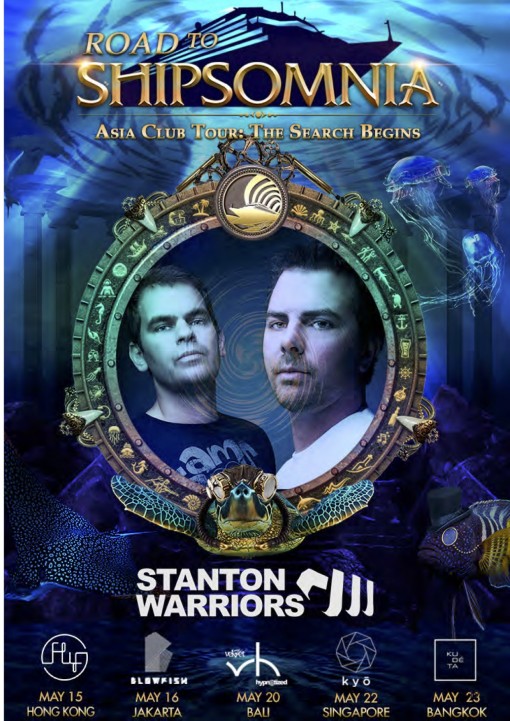 Next month, festival-vacation cruise Shipsomnia will launch its six-city tour in Asia-Pacific, collaborating with one of the best clubs in Singapore, Bangkok, Hong Kong, Jakarta, Bali and Shanghai. Perform- ing at these Shipsomnia-club collab gigs is Stanton Warriors [UK], one of the hottest music producers today, famed for their edits/remixes of cutting edge sounds from underground House to abstract Hip- Hop and everything in-between, into a melting pot of low-down booty electro punkishness.
A prequel to Shipsomnia, the week-long club tour will kick off on May 15 in Hong Kong at Fly; May 16 in Jakarta at Blowfish; May 20 in Bali at VH [Velvet & Hypnotized]; May 22 in Singapore at kyo; May 23 in Bangkok at Ku De Ta. (The gig in June at M2 in Shanghai will feature another artist. To be announced soon).
Each club will also host two parties at Shipsomnia [Jan 2 – Jan 6, 2016 on the Costa Victoria] and would be represented by their resident DJs, who would present their unique brand/sound and club culture, alongside global acts that would be an- nounced at a later date.
Mad Fresh CEO and Shipsomnia's co-founder Ales- sandra Maderni says: "The Asian club tours aim to promote Shipsomnia to a greater audience in Asia, as well as to promote the club culture of one of the best clubs in Asia."
EARLY-BIRD TICKETS
On May 24, 12pm [GMT+8], Shipsomnia will
launch its pre-sale tickets on shipsomnia.com . Pric- es [excludes taxes and fees] start from US$699 to US$1,199 per person, depending on the choice of cabin. This is a savings of US$400 per cabin for a quad or 4-person sharing cabin, till June 14, 2015. Thereafter, the prices will hike by US$100 per person. 6
Easy on the pocket, guests are only required to put a deposit of US$250 at the time of booking and they have the option to split the balance into three easy payments on July 1, Sept 1, Nov 1, 2015. Or they can pay in full.
For example, the price for one person for the lowest priced room costs US$699 [Usual: US$799]. After paying the deposit of US$250, the remaining sum can be paid in three instalments of US$150 each. Visa, MasterCard and Debit cards are accepted.
For info on Shipsomnia's VIP packages, you'll need to email [email protected].
More details of the cabin prices and booking pro- cess are published on shipsomnia.com .
Price for each person includes accommodation;
all meals on board [includes coffee and tea, and food is available 24 hours]; usage of all facilities on Costa Victoria; transfer to the beach party in Phuket; and access to all concerts/events on board (non VIP). Plus, a full-day in Phuket with a private beach party, lots of activities and special surprises planned. Stopover in Langkawi is half a day, where you can either stay on the boat and enjoy the beau- tiful surroundings of the port or go on one of the many organised tours.
SWEEPSTAKES
Register on shipsomnia.com for quick access to the Early Bird Tickets. You can also join the sweepstakes where a US$10,000 Grand Prize for two on Ship- somnia festival-vacation cruise awaits. Also, guests to each Shipsomnia's club tour gigs stand to win
a Double Occupancy Interior Class Cabin [worth US$1,778] for two. Register at the door on event night at the club.