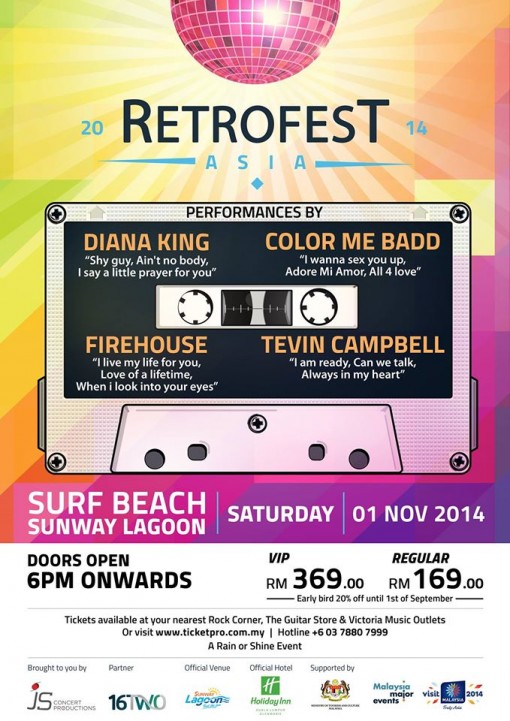 For the first time ever Malaysia will have its very first retro-based Music Festival featuring nostalgic classic hits from some of the most talented 90's acts ever,all laced with nothing but pure nostalgia… 
RETROFEST ASIA 2014 is an inaugural retro music festival brought to you by JS Concert Productions supported by Malaysia Major Events (MME), a division of Malaysia Convention & Exhibition Bureau (MyCEB), an agency under Malaysia's Ministry of Tourism and Culture, this event will significantly add up to the series of events happening in Malaysia. 
The event will be held from 6pm till 12 midnite on Saturday,
1st November 2014 at Surf Beach , Sunway Lagoon with the main objective to relive
and promote great music of the 90's. It is a unique, one of its kind music festival in Malaysia. 
FOUR superstars TEVIN CAMPBELL, DIANA KING, COLOR ME BADD and FIREHOUSE; that rocked and dominated the radio airwaves ; club playlists and music charts in the 90's takes turns on the main stage line up for a fun packed weekend of festival action and the best music from the coolest decade.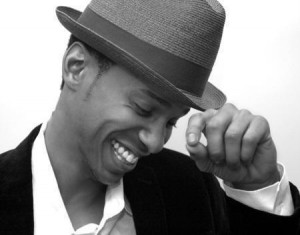 Tevin Campbell – well known hits" I'm Ready" 'Tell Me What You Want Me to Do' and 'Can We Talk? proves that he has one of the most beautiful male voices ever! It is powerful when it needs to be, and subtle when the emotion calls for it. It still covers a tremendous range and conveys passion effortlessly and that's definitely what we can expect on November 1st.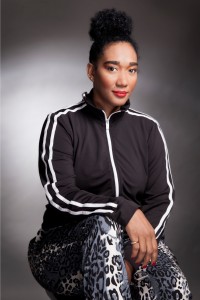 DIANA KING is one of the few bona fide Jamaican pop stars to branch out from the reggae/dancehall template that dominated the charts with such unforgettable hits such as Shy Guy, Aint Nobody, I Say A Little Prayer For You amongst her many chart toppers. She's a star, with a combination of unparalleled vocal power and passion, diverse style trademark blend of Reggae, R&B and Dance that must be seen LIVE to be experienced.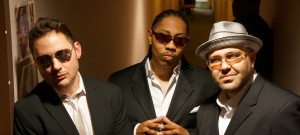 COLOR ME BADD airbrushed image and slick dance moves, overran MTV and pop radio in the 90s. They proved adept at both churning dance tunes and sincere ballads.Who can ever forget "I Wanna Sex You Up" , "All For Love" and "I Adore Mi Amor?"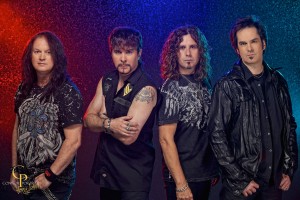 FIREHOUSE arrived at the tail end of the pop-metal explosion of the late 80s and early 90s. In 1991 Firehouse accepted the American Music Award as the Best New Hard Rock/Metal band, chosen over both Nirvana and Alice In Chains with their own signature style of the group's melodic, commercial hard rock that had immediate chart success like I live my life for you, Love of a lifetime, when I look into your eyes 
Ticket categories available for RETROFEST ASIA 2014 for purchase will be VIP at RM369 and REGULAR at RM169. Get your tickets before 1st SEPTEMBER to enjoy EARLY BIRD discount of 20%.
Doors will be open from 6pm onwards, 
Tickets will be available online at www.ticketpro.com.my
and at all Ticket Pro outlets, Rock Corner, Victoria Music and Guitar Store. 
For more info, log in to www.ticketpro.com.my or www.facebook.com/JSConcertProductions or call 03-7880 7999. 
About Malaysia Major Events 
Malaysia Major Events is a division of Malaysia Convention & Exhibition Bureau (MyCEB), an agency under Malaysia's Ministry of Tourism and Culture. Created under the Prime Minister's Economic Transformation Programme (ETP), Malaysia Major Events facilitates significant events that help contribute to Malaysia's economic growth.
It focuses on identifying and supporting major event bids for sports, arts, lifestyle and entertainment events. It also assists home grown and home hosted events as well as other cluster events that strengthen Malaysia's global appeal as an international avenue for major events. As a conduit between public and private sector, it's a one-stop centre which facilitates and liaises with diverse event stakeholders to ensure seamless processes and successful events. For more information, please visit www.mymajorevents.com.my