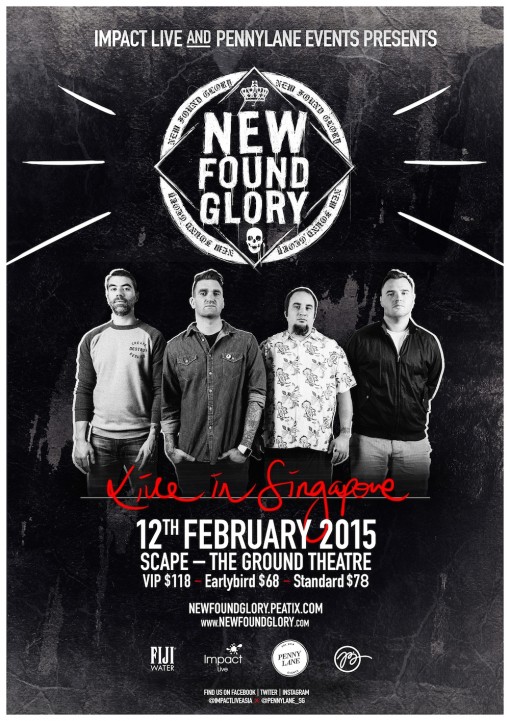 New Found Glory is an American punk rock band from Florida USA formed in 1997. The band currently consists of Jordan Pundik (vocals), Chad Gilbert (guitar), Ian Grushka (bass) and Cyrus Bolooki (drums). The band have released eight studio albums, one live album, two EPs, and three cover albums.
Emerging as part of the second wave of pop punk in the late 1990s, music critics consider them a key pioneer of the genre.
Labelled the "godfathers of modern punk", All music credits them for practically serving alongside the work of Blink 182 as the blueprint to the entire genre for the early 2000s. Also renowned for their energetic live performances, the band has garnered cult following a since their inception.
Event Details
Event Title: New Found Glory Live in Singapore 2015
Date: Thursday 12th February 2015
Venue: SCAPE The Ground Theatre
Time: 8.00PM
Event Hashtag: #NFGSG
Ticketing Details
Ticketing: http://newfoundglory.peatix.com
VIP: $118 (Meet & Greet / Photo Opp with NFG)
Standard: $78
Early Bird: $68 (until 31 December 2359hrs, or until sold-out)
At Door (12 Feb): $98
*All ticket prices includes ticket fee. All prices in SG$
Promoters: Impact Live and Pennylane Events
Impact Live Facebook | Twitter | Instagram: ImpactLiveAsia
Pennylane Events Facebook | Twitter | Instagram: pennylane_sg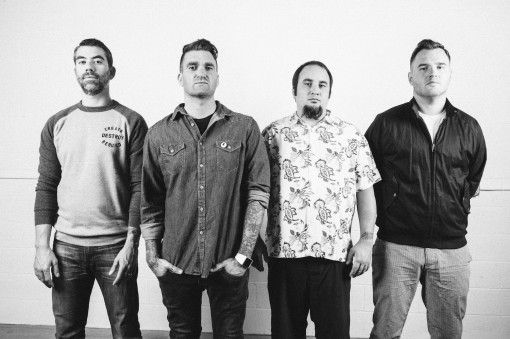 New Found Glory Full Biography
The word resurrection invokes the act of rising again, the possibility of revival despite opposing circumstances. There is no better for the title of New Found Glory's eighth album. The collection of songs, produced by the band and engineered by Paul Miner, reflects four musicians determined to overcome no matter the odds. The Florida band, who have been creating infectious pop-punk since 1997, has learned to embrace the struggle and allow it to spawn a new beginning, opening a chapter where New Found Glory is stronger and more unstoppable than ever.
Following the release and promotion of 2011's notably successful album Radiosurgery, New Found Glory found themselves pared down to a four-piece. With this new tightened lineup, the musicians were interested in creating a new album that embraced the combined sound of four instruments. They went back and listened to some of their favorite records to seek inspiration, studying how four musicians can build the same level of anthemic sound as if there were more. "The goal for the new record was to make it sound really authentic and natural and not filled in," Chad says. "It was trying to make the biggest sounding record stripped down as four people."
The musicians, who live split between Florida and Southern California, began writing in early 2014. They were interested in expanding beyond the recurring themes of relationships that often pops up in New Found Glory lyrics. For Jordan, Resurrection is an expression of the overall human experience and what it means to take the cards you're dealt and move on in a positive way. "We've always a been a band that has written about life experiences from a deeply personal place," Jordan says. "Some of it fictitious and some of it not fictional, but it's all been stuff we've dealt with in our lives."
The songs on the album were recorded in Miner's studio in Orange County in the summer of 2014 over the course of a month. The process marks the first time New Found Glory has gone into the studio with all the songs written and prepared. The band elected to produce the music themselves as a way of showcasing their independence and confidence in the band. Chad, who has produced albums for A Day To Remember, Lisa Loeb, as well as others, brought that experience to the process. It was a notably stress-free experience that resulted in a boisterous, infectious album that aptly balances polished hooks with a raw punk rock edge. "This is the most prepared we've ever been," Chad notes. "Writing as a band now has never felt so easy. We really came together with ideas. We've gone through a lot and figured a lot of things out. This album has been very cathartic for us."
"Selfless," the album's rollicking opener, sets the tone for Resurrection. The song is grand and driving, revealing how big four instruments can sound together. "We've been through upsand downs," Jordan explains of the song. "At the end of the day, it's how you are as a person and how people view you as a person." The album's title track features Terror's Scott Vogel on guest vocals and, in many ways, uses its catchy chorus to sum up the band's experience over the past few years. Bayside's Anthony Raneri pops up on rock-heavy "Stubborn" and Turnstile's Brendan Yates appears on propulsive album closer "On My Own."
One of the album's standout moments arrives on "Ready and Willing," an immediate number that grapples with the idea of struggling against the odds. The song reminds the listener that if they have a dream they should pursue it no matter what, always remembering why you had that dream to begin with. "It's about trying to find that feeling again that you had as a kid," Chad says. "You have to know why you do it. We want to challenge our fans to one day do the same thing."
For New Found Glory, it's eternally important to remember why they do what they do. The band has been playing together since the musicians were only in high school, breaking out of Florida to become one of the most influential pop-punk bands of our time. The group has headlined Warped Tour, toured with Green Day and performed on the mainstage of festivals like Reading and Leeds, their songs connecting positively and universally with fans around the world. Their message of encouragement continually resonates: never settle for what life has dealt you because you can do better. It's that passion and optimism that has kept New Found Glory together for all these years and all these albums and all these tours.
"Bands have a lot of different reasons for being bands, but we are 100 percent in this band for the music," Chad says. "All my life, this was my passion. That's true for all of us. That's why we still do it. We love writing and playing songs so we'll do whatever it takes to make that happen. Our band can get through anything and nothing would stop us from doing that and that's because we genuinely love it. Our passion is our music and that dominos into everything else. And it makes our fans happy, too."
"We are always appreciative," Jordan adds. "We appreciate each other and we appreciate our fans. Those are the two things that have kept us doing this, happily, for so long."