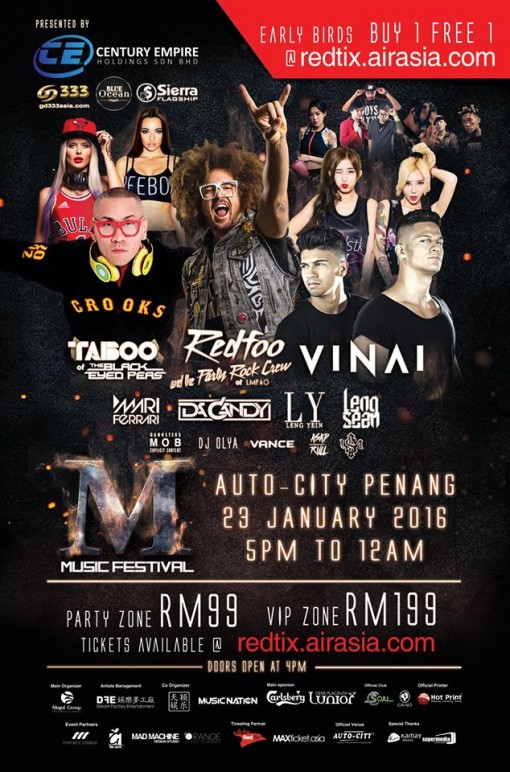 M Music Festival brings you an exciting international festival to Penang as we transform our official Auto City Penang into a one night only unforgettable scene where friend and family gather to enjoy music together featuring big shot like the legendary Redfoo of LMFAO, Taboo of Black Eyed Peas, DJ Mag World Top 43 DJ VINAI, DJ Da Candy, DJ Leng Yein & Leng Sean, DJ Mari Ferrari and not forgetting talented local acts along the day.
M Music Festival is organized by a strategic partnership of Mogul Group International, Dream Factory Entertainment, Gig Studio Entertainment and Music Nation along together with supporting partners Momenz Creation, Mad Machine Design Studio and Mr Gift.
MMF is proudly presented by 3 major international company from GD333, Blue Ocean and Sierra Flagship.
Lineup:
Redfoo of LMFAO
Taboo of Black Eyed Peas
VINAI DJ MAG World Top 43 DJ
DJ Da Candy DJANES World Top 7 DJ
DJ Leng Yein & Leng Sein DJANES World Top 16 DJ
DJ Mari Ferrari DJANE World Top 20 DJ
G$Mob from Taiwan
DJ Olya from Taiwan
DJ Vance from Malaysia
DJ ASAP x RULL from Malaysia
Buy Ticket:
http://redtix.airasia.com/Events/M_MusicFestival/