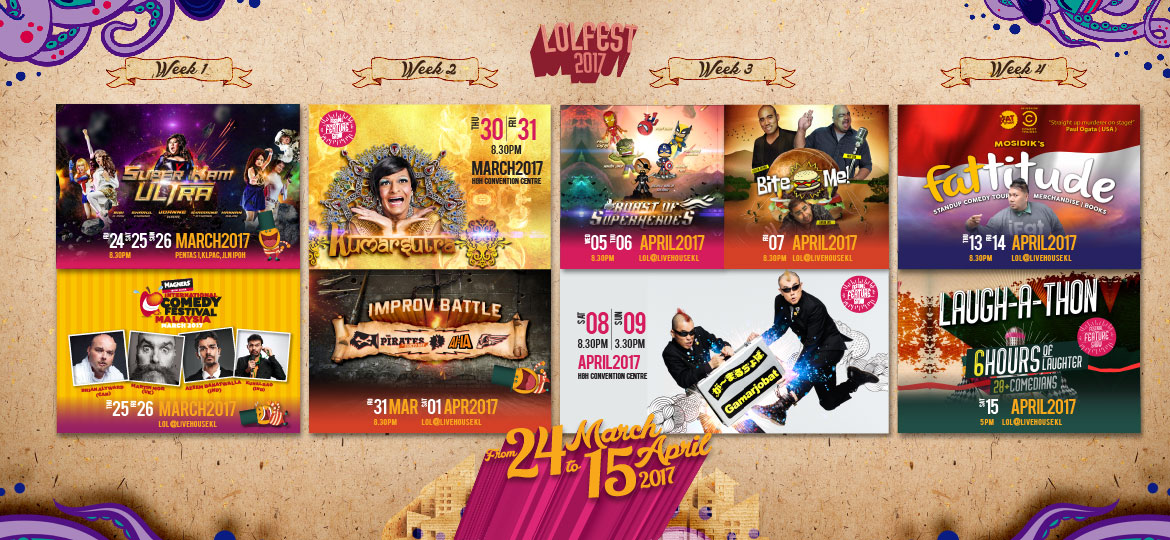 When : 24 / 25 / 26 March 2017
Price : VVIP (RM78), VIP (RM68) Premium (RM58) Standard (RM48)
Age Limit : 18 years and above
Comedians : Joanne Kam, Shamaine Othman, Bibi K Poh, Sharul Channa, Hannan Azlan,
The biggest and fiercest installment of the ALL- FEMALE COMEDY extravaganza series, SUPERKAM
ULTRA will feature 6 of the most fantabulous comics in the region including 1 new addition to the
Leading the laughter for the show is the infamous Queen of Malaysian Comedy – Joanne Kam
(Comedy Central Asia, Laugh Die You, Kings & Queens of Comedy 2).
Joining her on stage are the following funny ladies:
Malaysia's Princess of Comedy : Shamaine Othman (Cuak, KL24: Zombies);
Special Guest, Stinging Singaporean : Sharul Channa (Comedy Central Asia, Melbourne
International Comedy Festival); and the Notorious Bibi K Poh.
Hosted by the largest comedian in Malaysia Papi Zak, (Comedy Central Asia, GoAsean TV),
audiences this year will also be introduced to the cheeky comical singing style of the talented
Hannan Azlan (winner of the Hong Kong International Comedy Festival 2016).
From the trials of dating, to the agony of men, bedroom escapades to the hilarity of marriage, the
challenges of losing weight to mother-in-laws, no topic is sacred or out of bounds when these
women (and one real man) take KL by storm again. This show promises audiences 90% ALL-NEW
jokes, so you will be in for another funny ride. Be prepared to fall off your seat in this roller-coaster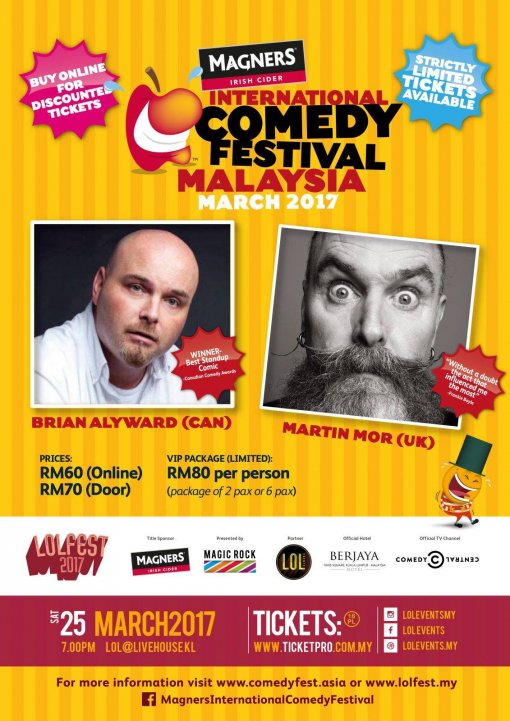 Magners Comedy Festival
When : 25 March 2017, Time: 7PM & 9PM
Price : VIP (RM80), Online (RM60) Door (RM70)
Language : English, Age Limit: 18 years and above
Comedians : Brian Alyward, Martin Mor, Kunal Rao, Azeem Banatwalla
Magners International Comedy Festival returns to Asia in 2017 for the third year with a lineup of
extraordinary comedians touring Hong Kong, Philippines, Singapore, Thailand, and for the first time,
Vietnam and our very own Malaysia. This festival is the largest comedy roadshow in Asia.
Magners International Comedy Festival 2017 will kick off in Singapore, tour across the other Asian
countries and will have its finale in Malaysia. In each country, select established venues will host the
shows, giving audiences the opportunity to enjoy great food, drinks and a laughing good time.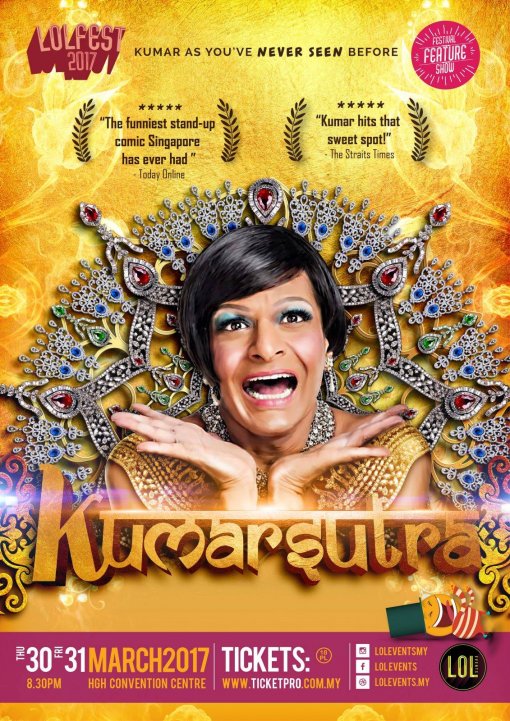 KumarSutra
When : 30 / 31 March 2017
Venue : HGH Convention Centre
Price : VIP (RM300), Platinum (RM250), Gold (RM200), Silver (RM150), Bronze (RM100)
Age Limit : 18 years and above
Kumar is one of South-east Asia's most iconic and respected performing artistes and a brilliant
stand-up comedian. In the past two decades, Kumar has proven to be a multi-talented performer,
entertaining millions as a comedian, TV host, actor, dancer, director and author.
Widely known for poking fun at all things controversial, Kumar's caustic remarks, based on everyday
observations, are bound to have audiences bowling over with laughter. With Kumar's latest project,
it will be a culmination of his talents in a show that integrates all the elements that have made
Kumar will be taking stage, fusing together the traditional and modern aspects of performing arts
that has been perfected along the years.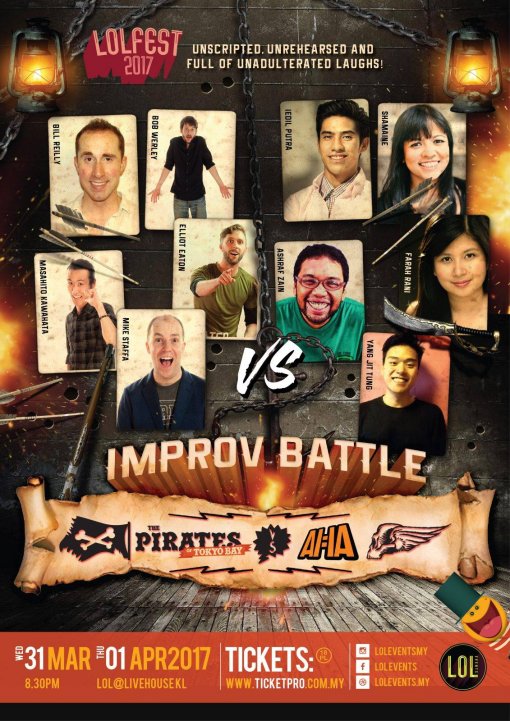 Improv Battle
When : 31 March / 1 April 2017
Price : VIP (RM90), Online (RM70), Door (RM80)
Age Limit : 18 years and above
Comedians : AIIA – Artificially Intelligent: Improvholics Anonymous ; POTB – Pirates of Tokyo Bay
Much like the popular TV show Whose Line Is It Anyway, this show will see 'AIIA – Artificially
Intelligent : Improvholics Anonymous' and 'POTB – Pirates of Tokyo Bay' come together with a
Audiences will have their funny bones tickled in an unscripted performance where Malaysia and
Japan battle it out on stage. Expect to see challenging games, mini-musicals and short sketches all
executed impromptu via input from the audience.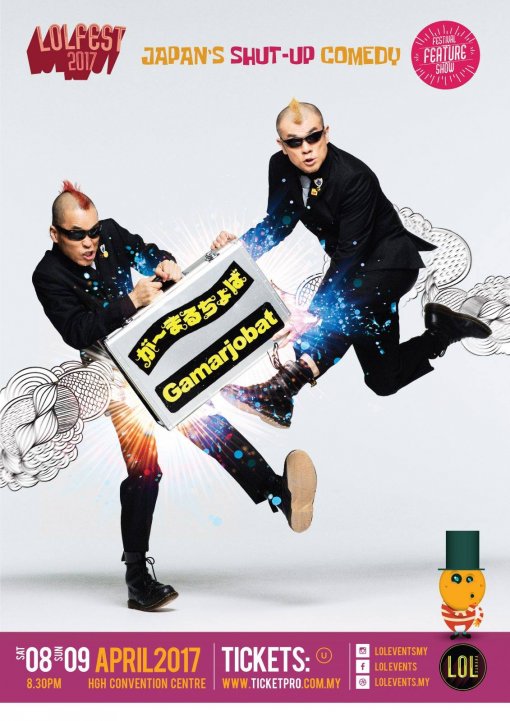 Gamarjobat
When : 8 / 9 April 2017, Time: 8.30PM
Venue : HGH Convention Center
Price : VIP (RM220), Platinum (RM170), Gold (RM140), Silver (RM110), Bronze (RM80),
Comedians : Keisuke Uchida "Ketch!" & Hiroshi Yoshimi "Hiro-Pom"
"Gamarjobat" actually means "Hello" in Georgian (that's the Georgia near Russia, not the state in
the USA). Comprising of two Japanese comedians, Ketch! and Hiro-Pon, Gamarjobat fascinate
audiences because their acts are well-planned, creative, energetic, and fun to watch.
Their highly-acclaimed performances transcend all language and cultural barriers. They have been
invited to perform at over 200 festivals in more than 30 countries. They were selected as one of,
"The 100 most respected Japanese people in the world" in the Japanese-edition of Newsweek
This double-act creates their own version of vaudevillian silent comedy. Their work is an ingeniously
packaged mixture of clever, free-flowing mime and gentle acrobatics all wrapped up with a
generous helping of wonderfully tongue-in-cheek humour. Their shows are universal and appeal to
every age group. These hilarious stage artists have fascinated audiences around the world with
thoroughly-plotted acts and explosive energy without saying a word.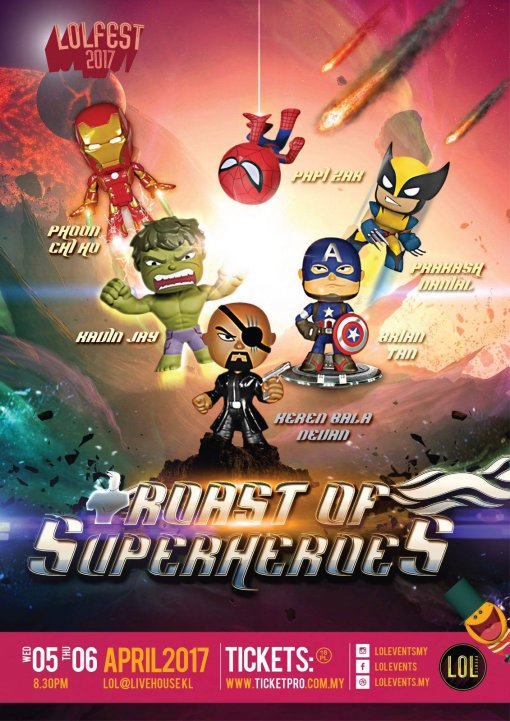 The Roast of Superheroes
Time : 8.30PM, Venue: LOL @ Live House
Price : VIP (RM90), Online (RM70), Door (RM80)
Age Limit : 18 years and above
Comedians : Brian Tan, Kavin Jay, Keren Bala Devan, Papi Zak, Phoon Chi Ho, Prakash Daniel
These 'heroes' have been running, jumping, flying, and plain ol' materialising across the big screens
in the constant fight for peace and justice for Earth, and all while looking so damn good!
However, don't be fooled by the pristine looks and perfect cliche lines. Hollywood and some PR
people have gone and done the usual heavy edits we know all too well.
Behind the scenes, Civil War of banter and trash talk within the group is more frequent then let on.
Yes, those hushed whispers of spite are more real than Nick Fury's eye patch!
For a limited time, come and take a peek into the regular-Joe lives of six awesome superheroes
when they meet up and chill away from saving the world and glamour lens. You'll never think of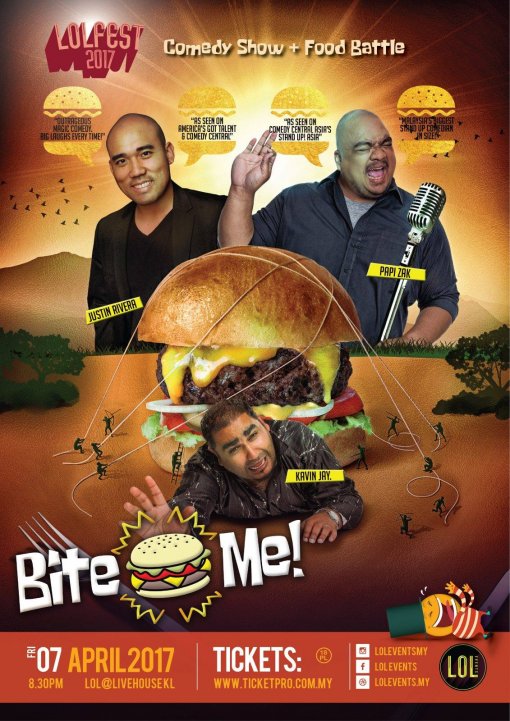 Bite Me!
Time : 8.30PM, Venue: LOL @ Live House
Price : VIP (RM80), Online (RM60), Door (RM70)
Age Limit : 18 years and above
Comedians : Kavin Jay, Justin Rivera, Papi Zak
People say these three comedians need to get in shape… Well, Round is a shape!
Three of the funniest (and roundest) comedians will be taking up space the stage in this special
comedy show AND food-eating competition!
Justin Rivera, a well-travelled comedy magician from the US, and Papi Zak, Malaysia's biggest
comedian (in size!) will headline in this show, which has been specially curated for LOL Fest 2017.
Fellow Malaysian comedian, Kavin Jay, from the 'Angry Indians' comedy tour, will be hosting.
After the jokes are said and done, it will be time for the chow down! Justin, Papi and Kavin will go
head-to-head-to-head in a burger-eating competition, live on stage and cheered on by the ecstatic
audience. What a tasty show indeed!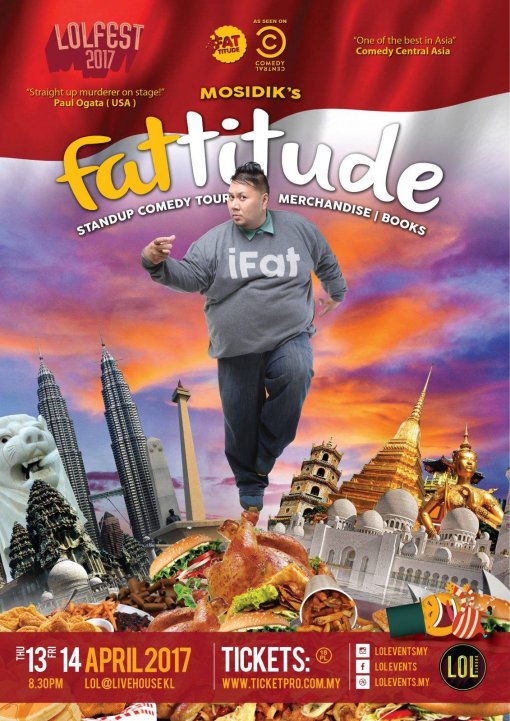 Mo Fattitude
When : 13 / 14 April 2017
Price : VIP (RM70), Online (RM50), Door (RM60)
Language : English & Indonesian
Age Limit : 18 years and above
Mo Sidik has been doing standup comedy in English and Bahasa Indonesia since 2011. Originally a
radio personality and emcee from 1995, he has been doing stand-up shows all over the world:
Singapore, Malaysia, Cambodia, Hong Kong, Afghanistan, and Australia.
He is also a well-known movie actor (Manusia Setengah Salmon, Comic 8: Casino King, Talak 3,
Juara), a mentor in Indonesia's Standup Comedy Academy, and as Om Jin in Sinetron JIN dan JUN:
Fattitude is Sidik's first tour special. True to its name, Fattitude will offer audiences a glimpse to the
funny side of life from the perspective of one who is overweight and yet has enough attitude to love
life and its challenges. Expect to hear about fat-shaming and bullying, the joys of eating desserts,
breaking items and how to enjoy attention.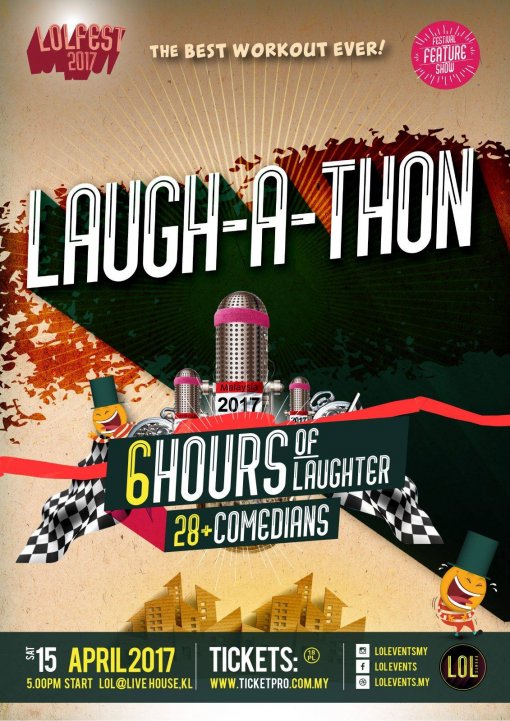 Laugh-a-thon
Times : Session #1 – 5.00-6.45pm
Session #3 – 9.00-10.45pm
(Note: Audience are allowed to select their desired session)
Language : English & Indonesian
Age Limit : 18 years and above
Is this the longest live stand-up comedy show ever? In Malaysia at least, it may well be!
For the second time running, Laugh-a-thon will feature some amazing international and local
comedy talents in a one-of-a-kind 6-hour special with more than a dozen laugh-out-loud
performances. This show promises to take audiences on an entirely different spectrum of stand-up
Laugh-a-thon is partitioned into 3 sessions, so audiences may buy a ticket for only one session, or
two sessions or get the ticket for all three sessions and enjoy the full Laugh-a-thon experience!
Prepare to be acquainted with the terms "fits of laughter" and "being left in stitches", or a real test