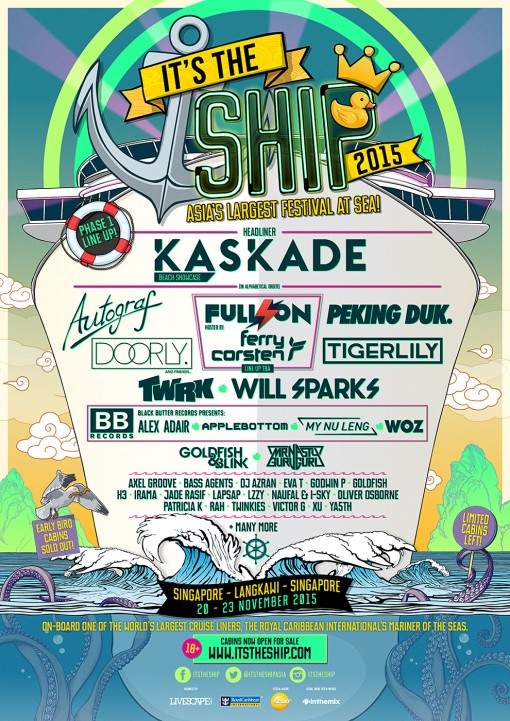 The Livescape Group today announced the first phase lineup to Asia's
largest music festival at sea, IT'S THE SHIP 2015. The festival cum vacation this year
will see the likes of Kaskade, Ferry Corsten, Peking Duk, Will Sparks, Autograf, Doorly,
Tiger Lily, TWRK, Alex Adair, My Nu Leng, Apple Bottom, and Woz perform alongside a
host of regional artistes.
The lineup thus far features a variety of sub-genres in the electronic music scene, with
the sounds of trap, EDM, and house represented in the phase 1 announcement.
Organisers are also looking at diversifying the music selection and are looking at adding
pop and hiphop acts onto the full lineup, which will be announced in July.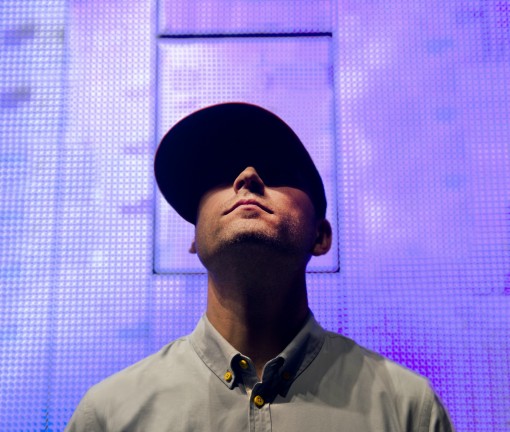 The phase 1 lineup is headlined by one of the highest paid DJs in the world and two-
time Grammy nominee, Kaskade, who also recently headlined the Coachella music
festival. It will also for the first time, play host to Ferry Corsten's signature event, Full On
which will also feature a selection of artistes handpicked by Ferry himself – acts will also
be announced in July with previous editions show having featured a range of electronic
music legends to up and coming talents.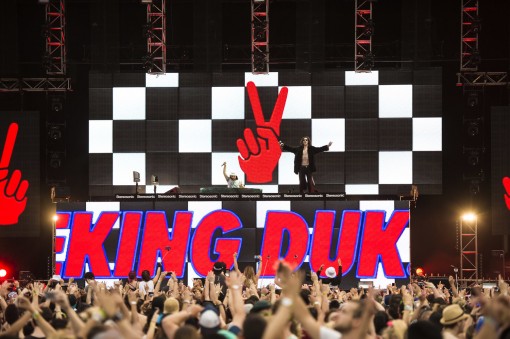 Australia is also strongly represented on the
lineup with three of the biggest Aussie acts to have emerged on the global electronic
music scene – Peking Duk, Tiger Lily and the king of Melbourne-bounce, Will Sparks.
All three have been making waves across the globe and have recently dominated some
of the world's largest music festivals.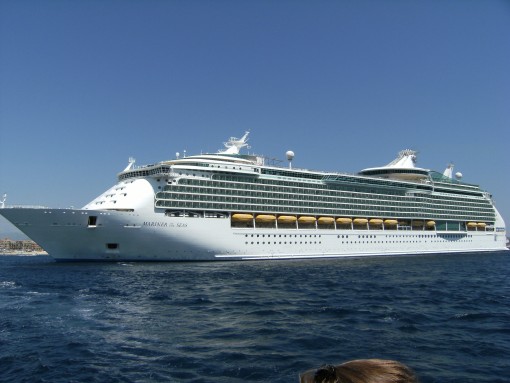 IT'S THE SHIP 2015 will take place aboard Royal Caribbean International's "Mariner of
the Seas", one of the largest cruise liners in the world, and is expected to attract a total
of 3,800 people. Currently, the festival has sold over 40% of its cabins since sales
began just over a month ago with 80% of purchases being snapped up by tourists. An
influx of foreign fans from 19 countries such as Malaysia, Australia, Thailand, Taiwan,
the United States of America and the United Kingdom, among others currently make up
the purchasers.
The four-day and three-night floating music festival cum vacation is set to depart from
the Marina Bay Cruise Centre in Singapore on November 20, crossing international
waters on the straits of Malacca to the tropical island of Langkawi in Malaysia for a
beach party, before returning to Singapore shores on November 23.
"We are very encouraged by the response so far, having sold over 40% of our cabins
even before we have announced our lineup. In conjunction with the announcement
today we are also releasing limited number of cabins with a 20% discount and I urge
those who have yet to buy their cabins to do so soon as our cabins are selling fast and
we are expecting a sold-out festival this year. This is one festival vacation you won't
want to miss," explained Muhammad Iqbal, Group Chief Executive Officer for The
Livescape Group.
The inaugural IT'S THE SHIP 2014 saw the likes of Dash Berlin, Lil Jon, Chvrches,
Sasha Grey, Basement Jaxx, and over 30 other international and regional acts perform
over 5 days and 4 nights of the cruise's duration.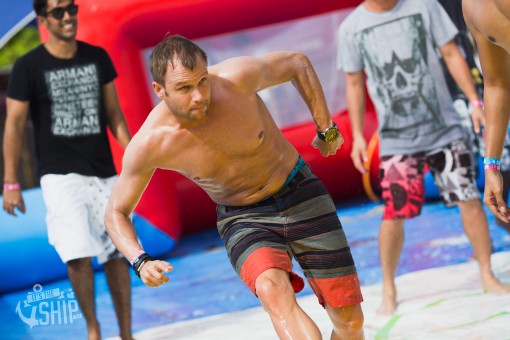 Last year's installment saw the likes of Dash Berlin casually sun-tanning on the cruise's
pool decks every morning and playing beach soccer with fans at the beach party in
Langkawi while Felix of Basement Jaxx helped a man propose to his wife-to-be at what
is IT'S THE SHIP's first ever wedding proposal.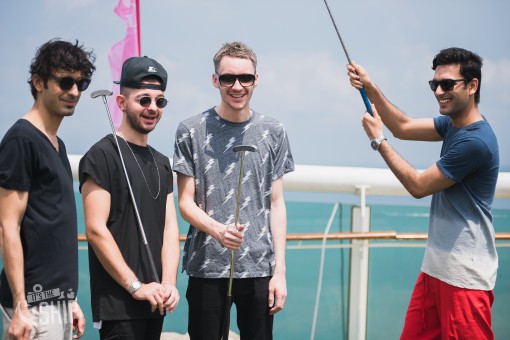 Then there was Sick Individuals, Alex Metric and Aeroplane, who played a round of
"tipsy" golf with fans and Crookers who hosted a cooking class while Louisahhh!!! got
busy with fans at her RPM session at the gym. There were also a tonne of secret pop-
up parties that took place on the cruise including a pyjama party and even a private
after party hosted by Sasha Grey. Lil Jon also hosted the fans to a private beach party
in Langkawi.
"One of the key talking points from the fans who attended last year's festival was the
fact that they not only got to see their favorite acts perform live but they also got to
interact with the artistes in person over the duration of the festival. One key
consideration we take when booking acts for IT'S THE SHIP is we tend to book acts
that are more outgoing and sociable because we want them to interact with the fans not
only through their music but also via the other activities onboard the cruise as well. And
because of the laidback, vacation-like atmosphere, it was very possible", Iqbal added.
A new payment option has also been introduced for IT'S THE SHIP 2015 where guests
can opt to pay for their cabins via a monthly installment plan. Installment plans for IT'S
THE SHIP 2015 varies depending on types of cabin purchased and are priced at
USD89, USD106, USD129 and USD149 per month. Payment plans require a USD200
down payment per person and monthly payment plans will be adjusted depending on
the date of purchase. More details on the installment plans can be found at
www.itstheship.com.
IT'S THE SHIP 2015 takes place from 20 – 23 November 2015 aboard the luxurious 5-
star Royal Caribbean International cruise liner, "Mariner of the Seas" and is expected to
attract over 3,800 fans of which 60% are expected to come from outside of Singapore.
The inaugural edition last year saw close to 2,500 fans from across 49 countries
travelling to Singapore specifically for IT'S THE SHIP.
The 15-deck Mariner of The Seas features a casino, a rock-climbing wall that overlooks
the sea, a full sized basketball court, ice-skating rink, mini golf course, a duty-free
shopping promenade, full service day spa, 10 pools and whirlpools, and 17 bars, clubs
and lounges.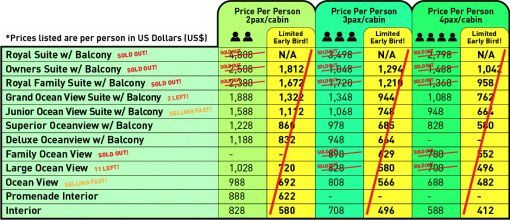 Cabins for IT'S THE SHIP 2015 are priced per person from USD588 for an interior
stateroom to USD4,888 for a luxurious Royal Suite. All cabin prices are inclusive of
complimentary 24-hour dining and room service, selected non-alcoholic beverages and
free usage of most of the ship's facilities. For more information and to purchase cabins,
logon to www.itstheship.com. The Royal Suite, Owner's Suite, Royal Family Suite, and
Family Ocean View Suite are sold out. Remaining cabins are selling fast. Cabin sale
ends on 10 November 2015.
Watch the phase 1 line up announcement video here:
ITS' THE SHIP 2015 Phase 1 Lineup (in alphabetical order)
International:
Alex Adair (presented by Black Butter Records)
Apple Bottom (presented by Black Butter Records)
Autograf
Doorly
Ferry Corsten presents Full On with special guests
Kaskade – Beach Party Showcase
My Nu Leng (presented by Black Butter Records)
Peking Duk
Tiger Lily
TWRK
Will Sparks
Woz (presented by Black Butter Records)
+ more to be announced in July 2015
Local/Regional (in alphabetical
Axel Groove
Bass Agents
DJ Azran
Eva T
Godwin P
Goldfish
Goldfish & Blink
H3
IRAMA
Jade Rasif
Lapsap
LZZY
Mr Nasty & Guru-Guru
Naufal & Isky
Oliver Osborne
Patricia K
RAH
Twinkies
Victor G
XU
Ya5th
+ more to be announced in July 2015