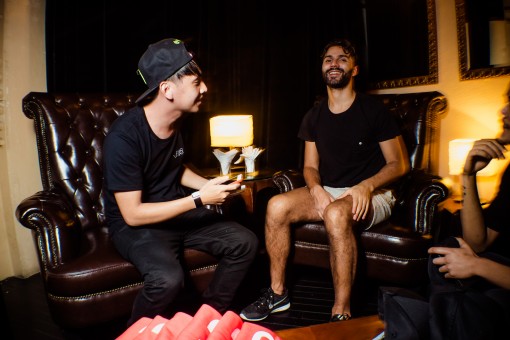 Coming from Netherlands, the 29 years old DJ and producer, R3hab has started his career since 2008 when he produced a track for Hardwell called "Mrkrstft". Then, he got signed under Afrojack's label, Wall Recordings right after his first collaboration with Afrojack, 'Prutataaa'. One of his popular debuts is "Revolution", the collaboration with Nervo and Ummet Ozcan that has been listed in the Top 40 of the U.K. singles chart.
Also known as Fadil El Ghoul, R3hab is currently ranking number 21 in 2015 DJ Mag Top 100. He has been spinning in most famous clubs and huge festivals across the world from USA to Europe and Asia. He is also been added into big festival's residency such as Tomorrowland. We are glad to have a quick chat with him before his set in PLAY Club at The Roof, Kuala Lumpur.
Concertkaki: Hi Fadil, welcome back to Kuala Lumpur! You're returning to KL for the 4th time. Excited to be back?
R3hab: Yea! Excited to be back. I mean last time we couldn't have the chance to play unfortunately.
Concertkaki: You have collaborated with a lot of well known DJs such as Calvin Harris, Hardwell and KSHMR lately, is there any artists you would like to work with in the future?
R3hab: As I was telling earlier, like local artists would be cool. As DJs, I think that working with KSHMR and Calvin has been amazing, and I am doing something with Hardwell right now. So, whoever wants to work, I am down the work, it doesn't matters for me. If you bring something good to the table, I'll try to bring something good to the table back.
Concertkaki: Tell us about STRONG collaboration with KSHMR. How was it like to work with him?
R3hab: I remember we had like a studio date, somewhere early in the year, like January or February and we came up with this melody. But the melody wasn't like… The notes were good but the rhythm wasn't good. And then, after I made "Tiger" and he made "Secrets", we sort of fused and that's how "Strong" was sort of born. Then, it takes like a couple of months to finish, with full time work. Because we couldn't come together every time, like we are very limited but then slowly, it became better and better.
Concertkaki: What should we expect from R3hab in 2016?
R3hab: Lots of new music. Same old, I'm gonna knock out a new record in January, one in February and one in March, like every month. Going full force for 2016!
Concertkaki: Great! Once again, thank you for your time.