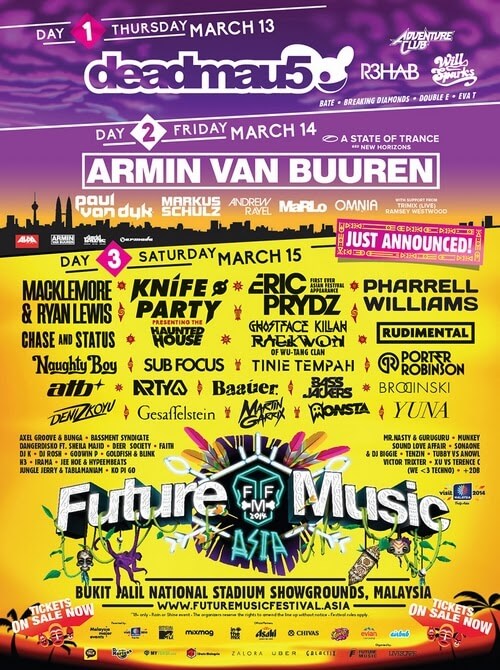 The organizers of Future Music Festival Asia, Future Music Australia and Livescape Asia today announced its biggest festival yet by unveiling its line-up of epic proportions for next year's massive festival. The festival will take over the Bukit Jalil Stadium from 13 – 15 March 2014 with an estimated 75,000 fans expected to converge over the three-days.
Slated to be Southeast Asia's biggest music festival ever, the organisers take cue from the success Future Music Festival Asia has obtained over the past two years and promises more punch and a cosmic show that will seal FMFA as Southeast Asia's biggest and most epic music festival. The festival next year has been expanded to three days from this year's two.
Tickets go on sale on Thursday, 17 October 2013. With the mega line-up of acts invading Malaysia, organisers have split ticket sales into four releases that will be sold in stages. Music lovers are urged to go out and safeguard their passes, as FMFA next year is again expected to be a sold-out affair.
"It has been our vision to bring to music punters in this region a massive music experience that resonates long after the festival is over. This is our first steps in making that vision a reality by presenting our biggest line-up to date. From US to Indonesia, music lovers are crossing out their calendars for the coming festival and we can only get better from here on. This will be the largest music festival in Southeast Asia and we guarantee it will be a mind-blowing three-day event", mentioned Iqbal Ameer, Director of Livescape Asia.
Day 1 is deemed as the 'FMFA 2014 Opening Party featuring DeadMau5 + Friends", the stage will be dominated by the long awaited arrival of outspoken progressive-house music producer and performer, Deadmau5.
On Day 2, fans of trance music and Armin Van Buuren will be transported once again to intergalactic heights with 'A State of Trance 650: New Horizons', marking the Dutch trance legend's return to Malaysian shores. The return of ASOT to Malaysia also marks Kuala Lumpur as the only city in the world after Miami to have hosted the show for two years running.
"Last year we had such an impressive turn-out that we just had to bring Armin Van Buuren back for another mind-blowing night. Trance fans can attest that it was not just magnetic but the energy and vibe was staggering. Playing alongside Armin are also going to be legendary names so we can guarantee that this is one night, music fans are not going to want to miss," stressed Iqbal Ameer
Day 3 which will be held on 15 March 2014 will see the main Future Music Festival Asia 2014 event take place which will feature four massive stages. The stages on Saturday will feature diverse sounds ranging from Electronic Dance Music (EDM), Trance, Techno, Rock, and HipHop.
Jason Ayoubi, the Director of Future Music Australia said, "I believe we have got a phenomenal line-up and I don't think Southeast Asia, let alone Malaysia has ever witnessed a gathering of musical talents in a single event of this proportion and scale. So to the fans, I urge you to please get your tickets early. We're expecting a sold-out show and we really don't want to have to disappoint you because I promise you, next year, Future Music Festival Asia 2014 will be the biggest music event to happen in this part of the region".
The epic Future Music Festival Asia, which thrilled crowds of over 55,000 in March this year, has been dubbed as the largest music festival to ever hit Southeast Asian shores. Malaysia is the only country to ever host Future Music Festival outside of Australia. Future Music Festival Asia 2014 is organized by Future Music Australia and Livescape Asia Sdn. Bhd. and is supported by Malaysia Major Events, a division of the Malaysia Convention & Exhibition Bureau, an agency under Malaysia's Ministry of Tourism and Culture. It is also supported by Mixmag as the festival's Global Media Partner and MTV Asia as its Official Music Channel.
"The Future Music Festival Asia 2014 represents a great mark for Visit Malaysia Year (VMY) 2014. The fact that Malaysia is able to host this festival for the third consecutive year in 2014 on different aspects of our hospitality and culture, once again proves that we are committed to further intensify our interactions as stakeholders in the tourism and culture sector and working towards enhancing the contribution to economic development of Malaysia," said Dato' Seri Mohamed Nazri bin Tan Sri Abdul Aziz, Minister of Tourism and Culture, Malaysia.
Tony Nagamaiah, General Manager of the Malaysia Major Events added, "Malaysia Major Events is constantly deriving ways to support activities that could drive tourism into the country. Over 75,000 revellers are expected to attend the festival next year of which over 20,000 are foreign fans. With a proven track record over the past two years, we believe that Future Music Festival Asia is a dynamic platform to attract a large number of tourists into the country and be a part of reaching our goal of 28 million tourists in 2014."
For the festival next year, fans of Future Music Festival Asia 2014 will be offered choices to purchase either single-day passes for the 13, 14 or 15 March 2014 or a three-day weekend pass which will grant them access into all three days of the Future Music Festival Asia 2014 Weekend.