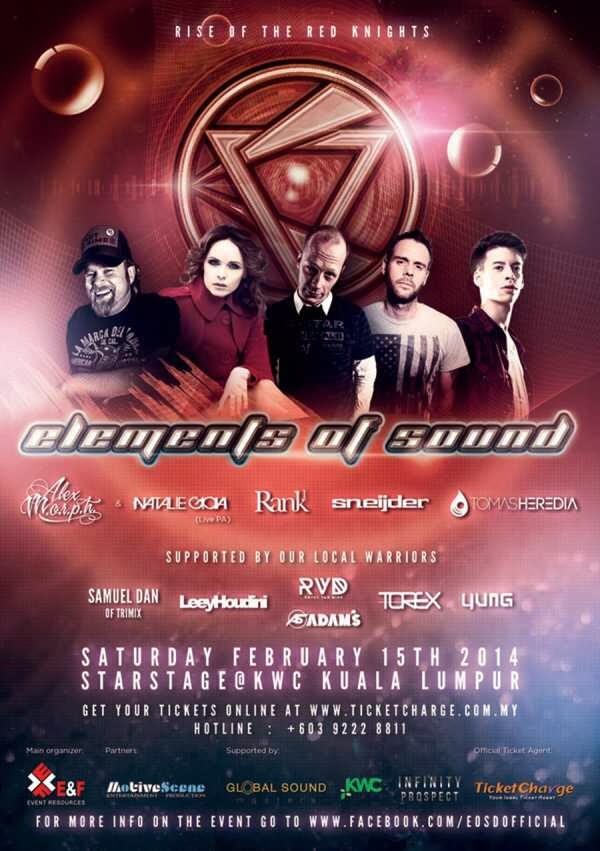 Elements of Sound: Rise Of The Red Knights
Making a presents amongst the festival in Malaysia, Elements of Sound Division (EOSD) embraced 15 February 2014, Saturday to showcase their debut festival – Elements of Sound: Rise of the Red Knights.
Elements of Sound Division (EOSD) is a collective of dance music lovers who are committed in sharing their opinion to the music that they love. Each individual is unique and grew with different music background, and with this passion and strong bond amongst themselves, they are committed to rise. Rise of the Red Knights was nurtured with grounds that is holding them together and sharing this vision is what they intended to do.
'Elements of Sound: Rise of the Red Knights' is proud to present an epic music festival with electronic dance music stars. Witness a mix of legendary and uprising talents in this stellar line up. On top of the bill is Alex M.O.R.P.H. – a leading DJ and producer in the global dance music scene. He is always one step ahead in quality and energetic like no one else in his genre. His popularity rises with outstanding releases such 'An Angel's Love', 'Life Less Ordinary', 'Dreams' and remixes plus collaborations with other prominent artists like Armin van Buuren, Paul van Dyk, Faithless, Dash Berlin and many others.
Another highlight of the night is the legendary DJ and producer team, Rank1. The infectious energy in their set creates a melodramatic vibes throughout the air. Trance Energy, Mystery Land, Nature One and Dance Valley are some of the festivals that have witnessed Rank1's colossal presents.
For his debut performance in Malaysia, Sneijder joins the extravagant line up. Tipped by John O'Callaghan and praised by Paul van Dyk in recent years, hehas truly soars amongst his peers. Known for his trademark sound, a fusion of uplifting and tech trance, he is fast becoming one of the most in demand artists in the scene. Next is the young and talented future star, Tomas Heridia. His first release in Armada back in 2012 kick started his career with more releases soon after. He is respected from the international dance community culminating in praise from Armin Van Buuren in his DJ sets and 'A State of Trance' radio shows.
Added to the bill is the sensational and energetic vocalist, the angelic voice behind Alex M.O.R.P.H.'s track – Dreams, Natalie Gioia. 'Dreams' shot into the Beatport trance chart at number 2 and picked up support from Armin van Buuren and voted as Future Favorite which also featured as Track of the Week for A State Of Trance radio shows. A definite show stealer with live performance show, she represents the kind of artists that will differentiate her to from the rest.
Rise with the knights are our local warriors whom represent Elements of Sound Division society. Warriors includes Samuel Dan; one third of Trimix which have worked with Germany producer, Woody van Eyden. Next is Leey Houdini, a name that is familiar with the scene. His monthly podcast #worldjourney syndicated in TranceradioFM have received great support from guest acts such Daniel Wanrooy to Fisherman & Hawkins and many more. Wrapping up the line up are newcomer in the scene – RVD, Adam Sani, Torex and DJ Yung.
Making a history, Elements of Sound: Rise of the Red Knights is ready to bring one of the best show Malaysia will witness. Admissions to the event will be available for RM78 (early bird) and RM98 (presale) at all TicketCharge outlets and online (http://www.ticketcharge.com.my/).
Event is organized by E&F Event Resources in collaboration with Motive Scene Entertainment with the support from Global Sound Masters, Elements of Sound Division society and Infinity Prospect (M).