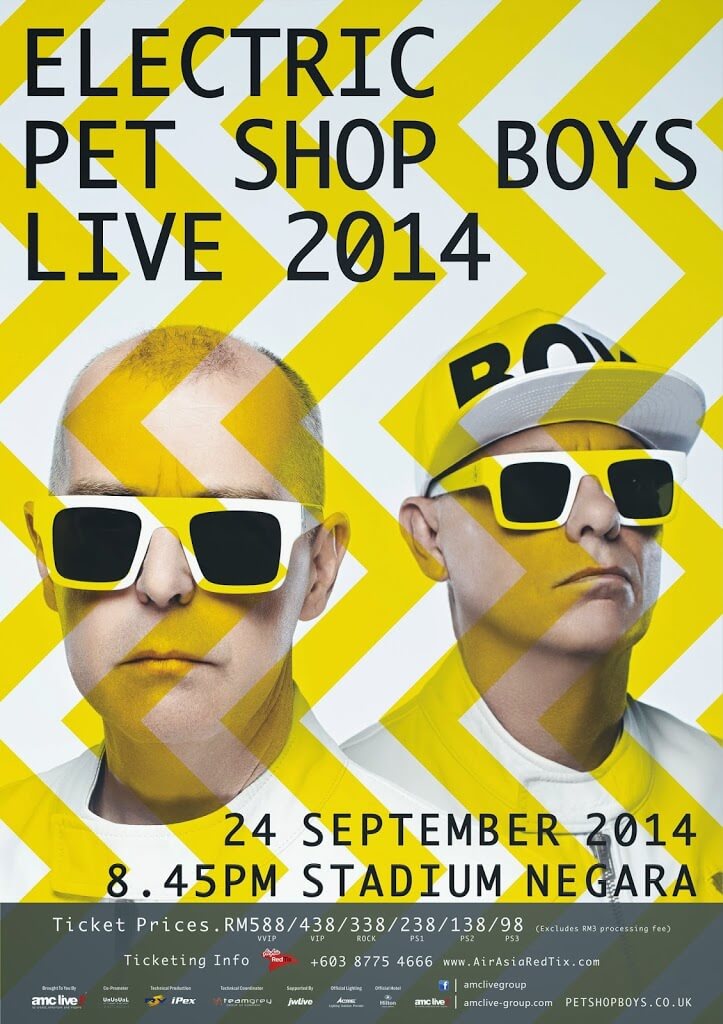 PET SHOP BOYS ARE FINALLY COMING TO KL!!!
They're FINALLY COMING! The Electronic Pop Icons are finally coming to our 
AMC Live Group is proud to bring you PET SHOP BOYS to MALAYSIA for the very 
first time! Their maiden concert will be held at Stadium Negara Kuala Lumpur on 
September 24, 2014 at 8.45pm. 
"They have been known as reinventing the pop concert as a modern art spectacle 
for decades " – The Independent
"Snap, crackle and perfect pop. This glorious show confirmed Pet Shop Boys' 
membership of a select club. Like Madonna, Lady Gaga and Kate Bush they are 
proper pop stars who understand how to fuse the mainstream with the avant 
THE AUDIENCES IN Malaysia is guaranteed world-beating spectacular live
show to go with the club-centered sound of 'Electric', with lighting and set design 
created in collaboration with award-winning creative director and designer Es 
Devlin (who has worked with Lady Gaga, Kanye West & Jay Z,
Take That and the 2012 Olympics' Closing Ceremony). The show features 
extraordinary interactive visuals, original choreography, amazing costumes, a 
spectacular light and laser show and – of course – lots of hits.
Pet Shop Boys released a new critically acclaimed album last year entitled Electric 
and they will be bringing their ELECTRIC WORLD TOUR to Malaysia. Pet Shop Boys' 
recent tour have seen them headline some of the world's most prestigious venues 
and festivals including the Coachella festival in the US, the Glastonbury Festival in 
the UK and the world's leading electronic music festival Sonar in Barcelona, Spain.
Pet Shop Boys said: "'Electric' is very much set on the dance floor. Our latest album 
often evolves as a response to our previous album and, whereas 'Elysium' had a 
reflective mood, 'Electric' is pretty banging! And working with Stuart Price on a 
studio album is something we have wanted to do for a very long time".
Apart from their new critically acclaimed album, Pet Shop Boys cannot wait to 
perform their big hits to their Malaysian fans for the very first time in person. Hits 
like West End Girls, It's a Sin, Suburbia, Always on my Mind, Se a Vida E, Domino 
Dancing, What Have I done to deserve this?, Heart are just a few to mention…
It's going to a big party! We can't wait to come to Malaysia! – Neil Tennant & 
Pet Shop Boys pre-sale tickets will be launched on 10th
onwards. There will be a special discount for 1 week before the actual ticket 
ELECTRIC PET SHOP BOYS LIVE 2014 is proudly brought to you by AMC Live Group.