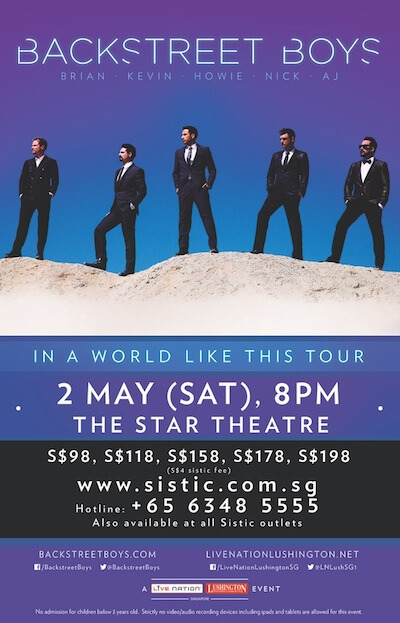 Live Nation Lushington is proud to announce that BACKSTREET BOYS will bring their In A World Like This Tour to Singapore, on 2 May, Saturday at The Star Theatre. Tickets will be available to the public via all Sistic channels on 5 February 2014 (Thursday) 10am onwards. Ticket prices starts from S$98.
Consisting of Brian Littrell, Kevin Richardson, Howie Dorough, A.J. McLean and Nick Carter, the multiple award-winning and Grammy-nominated group has sold 130 million records worldwide and is recognized as the best-selling boy band in history. Not only have their first 9 albums all debuted in the top 10 on the Billboard Top 100 but they have gone gold and platinum in 46 countries. The Backstreet Boys are the only group in Canadian history to have 3 consecutive diamond albums commemorating sales of over 10 million records and they hold 2 diamond awards in the US. The group also made history when their anticipated 11-week, 39-city 1999-2000 North American MILLENNIUM arena tour sold out within the first hour. The Backstreet Boys continue to be an essential figure in pop culture receiving a star on the legendary Hollywood Walk of Fame in 2013.
The 2013 album release In A World Like This not only celebrates 20 years of Backstreet Boys, it's their first effort with founding member Richardson since 2005's Never Gone. It comes hot on the heels of their historic global co-jaunt with New Kids on the Block, NKOTBSB, in 2011, and three consecutive sold-out annual cruises. It also proves that Backstreet Boys are back and better than ever.
BSB have amassed a huge catalogue of hits including I Want It That Way, Everybody (Backstreet's Back), As Long As You Love Me, Show Me the Meaning of Being Lonely, I'll Never Break Your Heart, Shape of Your Heart, Incomplete, Larger Than Life, Quit Playing Games (with My Heart), All I Have to Give and We've Got it Going and boast a bevy of new material for their diehard and impressively loyal fan base.
"We wouldn't be here without the fans," McLean goes on. "We want them to know that we've never gone away and we never will. We're thankful for everything they've done for us. I feel like this album makes that statement loud and clear."
Littrell continues, "I want the fans to see us, feel us, and hear us for who we are now. They helped us create all of this. I want them to be attached to this emotionally. Music is our heart and soul. We live it and breathe it every day."
"We're stronger than ever," concludes Dorough. "We've got time and knowledge under our belts. We've grown more and more every album. This is everything we were always meant to be."
In A World Like This, the best memories for Backstreet Boys are still ahead of them. 
BACKSTREET BOYS – IN A WORLD LIKE THIS TOUR
Date 2 May 2015 (Saturday)
Venue The Star Theatre, The Star Performing Arts Centre
Ticket price S$98, S$118, S$158, S$178, S$198 (all seated) +$4 Sistic booking fee
Public on-sale date 5 February 2014 (Thursday) 10am
Tickets available from www.sistic.com.sg, hotline (65) 6348-5555, all Sistic outlets.