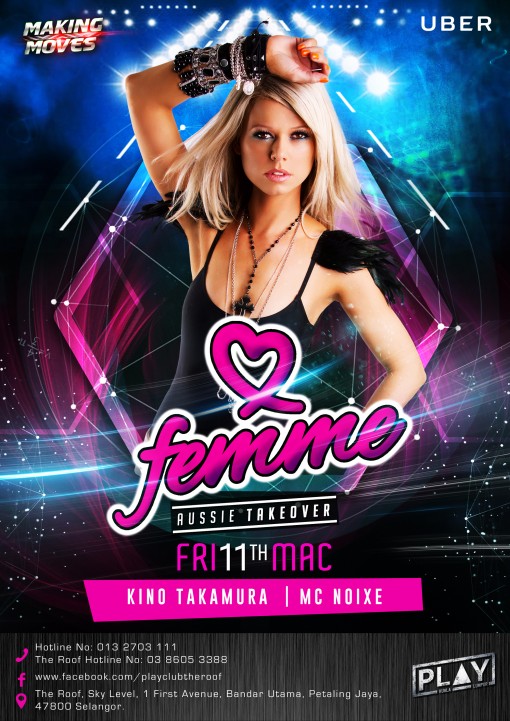 Melbourne based, feisty blonde bombshell – DJ Femme is set to hit the decks for an "Aussie Takeover" at PLAY Club KL, The Roof. "Aussie Takeover" will be happening on 11th March, 2016 (Friday) from 10pm onwards. With various successful EDM festivals originating from Australia such as worldwide-known "Future Music Festival", party-goers may now get a taste of the Melbourne EDM scene right here in Malaysia. Proudly presented by PLAY Club KL, this event promises a wild night with DJ Femme; the ball of energy who will be raising the roof up high for the night.
Rated as one of Australia's top ten female DJs, Femme is the exact definition of fiery passion. She had no trouble cementing herself in the DJ scene and has gained a well respected reputation through her gigs and the Australian ARIA charts. Femme is proudly signed to the well respected, Ministry of Sound aligned "Soapbox" agency for national touring. Being absolutely versatile and natural on TV and radio, Femme has co- hosted her very own episode on Channel V during the "She Can DJ" campaign and being interviewed by radio stations across the country including Nova which was aired nationwide. She also works tightly with the largest community dance music station in the country, "Fresh FM" co-hosting shows as a monthly guest.
In 2013, Femme was signed to Bombsquad records; working alongside buddies – Bombs Away. She has topped the Australian ARIA charts with her first two releases under Bombsquad records and is set to launch further with future productions. "Young Hearts" topped the charts for 6 weeks in Australia and her current release "Chico" is climbing up the charts currently.
On the local DJ circuit, Femme is also the first ever female DJ to earn her place as a main stage resident DJ in Australia's largest super club – HQ. Internationally, she has played for the World Famous Brand in Ibiza, "El Divino" in Floripa, Brazil and made her first appearance DJ-ing in Manila, Philippines for a luxurious fashion show at Skye bar.
Clearly the most important factor is the tunes for this much demanded DJ. She will proudly tell you it's not about the looks or pay, it's about loving what you do and being dedicated to the industry. Femme's respected club sound is main room electro with a mix of her favorite Melbourne sound. Hard work and determination combined with strong technical skills has gotten this beauty where she is today. In a tough industry, this devoted DJ remains strong in her existence.
Doors will open from 10pm onwards with cover charge of RM50 (including one drink). DJ line up includes Kino Takamura and hosted by MC Noixe. Bottle packages and promo pricing are also available. For more information, kindly log on to www.facebook.com/PlayClubTheRoof. For reservations and further inquiries, please call 013 – 2703 111 or 03 – 8605 3388.