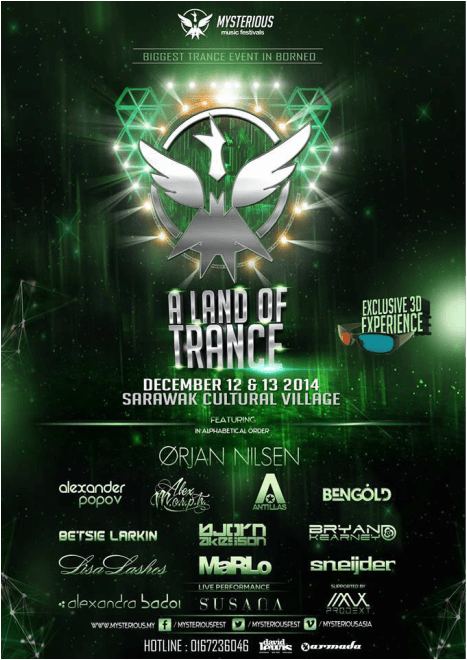 A Land Of Trance 2014: The Biggest Trance Event In Borneo!
Sliding in sync with the huge current of festivals around Asia region in the month of
December, Mysterious Asia will deliver its brand new event series, 'A Land Of
Trance'. Creating a solid base foundation for its genre, 'A Land of Trance' promise to
deliver the biggest trance event this year-end. The event lands in the capital city of
Sarawak, Malaysia – the city of Kuching.
Two- days of intense dance music, #ALOT2014 will witness smashing performances
from the biggest names to date.
Acts from around the world sets to be in this well
tailored line up are; Orjan Nilsen (#79 'DJ Mag Top100 DJs'), Alex M.O.R.P.H.,
MaRLo, Lisa Lashes, Sneijder, Bryan Kearney, Ben Gold, Bjorn Akesson, Alexander
Popov, Antillas, Betsie Larkin, Susana and Alexandra Badoi.
Homegrown talents from East and West Malaysia assembled for #ALOT2014
festival. Talents includes Herbert Lye & Azlie Azurael, IMX Projext (misterAriffin &
Adham Nasri), Neoteric Nova and G- Nerate.
A Land Of Trance is encouraged to bring togetherness amongst the local talents and
international acts, revelers around South East Asia and promoters around the world.
Recognizing that electronic dance music will be part of the future, Mysterious Asia,
the organizer of #ALOT2014 is determine in delivering the best festival production to
ensure maximum satisfactions and safety to the supporters.
Tickets to the festival are available both online and through official agents. Presale
prices for normal entry is RM88.00 and VIP selling at RM158.00. Door sale will be
RM108.00 and VIP at RM188.00 respectively.
For updates on events, ticket purchase, package stay and others, visit
www.alandoftrance.com