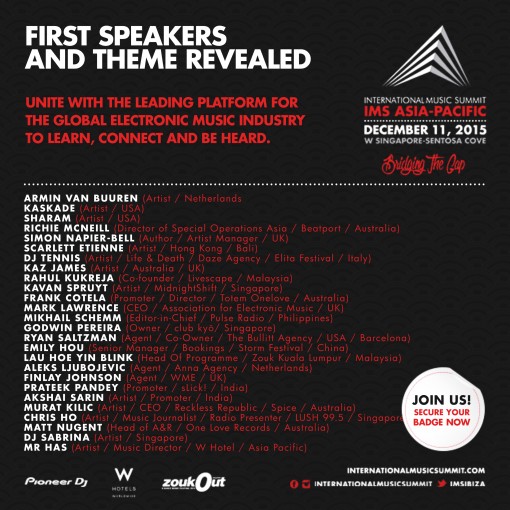 The five-time number one DJ Armin van Buuren will join the international panel of esteemed speakers at the International Music Summit [IMS] AsiaPacific 2015. The Grammy-nominated Dutch DJ and producer, who has recently released his sixth studio album, Embrace, will be a highlight in a Keynote Interview alongside American DJ Kaskade, one of the biggest names in the global music circuit who has shaped the EDM scene in North America. Van Buuren, who is also performing at ZoukOut festival [Dec 12] at Siloso Beach, Sentosa, is set to bring his wealth of experience and knowledge in the global music industry to the summit's Keynote Interview having accumulated a vast amount of success in the last two decades. His body of work includes A State of Trance – the longest dance music weekly radio show with 36 million listeners tuning in more than 100 radio stations worldwide. The radio show propelled him to stardom and helped cultivate an interest in trance music around the world. In the United States, he holds the record for most entries on the Billboard Dance/Electronic Albums chart.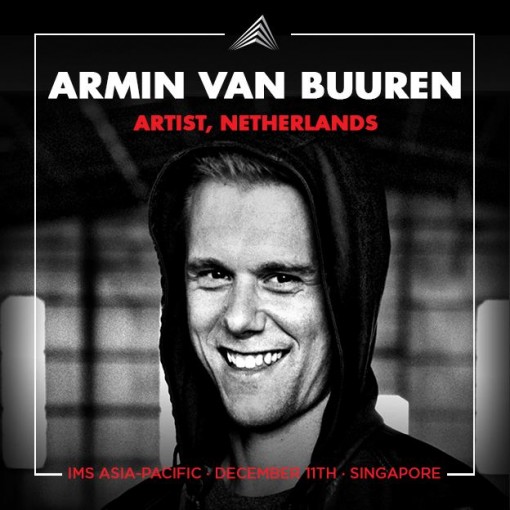 ARMIN VAN BUUREN Artist / Netherlands Armin van Buuren is widely regarded as one of the world's biggest DJs and producers within electronic dance music for close to twenty years. His life-long dedication to trance music has earned him a Grammy® nomination for 'This Is What It Feels Like' feat. Trevor Guthrie, and he has been voted "#1 DJ" in the world for an unprecedented five times in the annual DJ Mag Top 100, counting up to fourteen consecutive top five spots to date. His weekly two-hour radio show, "A State of Trance" [ASOT], is broadcast weekly on more than 100 radio stations around the world, drawing more than 36 million listeners each week. The ASOT brand has grown into a complete live show experience and touring concept.
Throughout the years, Armin has launched several 'Armin Only' world tours, based on his albums ['Imagine' in 2008, 'Mirage' in 2010, and 'Intense' in 2013]. In the case of the Armin Only 'Intense' world tour, more than 33 dates were set, with shows in world cities on five different continents reeling in more than 500,000 visitors. In addition, Armin is the co-founder of the Armada Music record label (together with Maykel Piron and D a v i d Le w i s ], w h i c h h a s b e e n a c c l a i m e d internationally for releasing top-notch electronic music of various genres. As a performer, Armin headlines more than 150 shows a year at leading festivals and venues around the world, including Electric Daisy Carnival [Las Vegas, New York], Ultra Music Festival [Miami], Tomorrowland [Belgium]; Omnia Nightclub [Las Vegas], Ushuaia [Ibiza], and numerous others. Armin has the second most followed artist playlist on Spotify of any music genre and launched his sixth fulllength artist album ['Embrace'] on October 29th 2015, after '76' [2003], 'Shivers' [2005], ' I m a g i n e ' [ 2 0 0 8 ] , ' M i r a g e ' [ 2 0 1 0 ] , a n d 'Intense' [2013].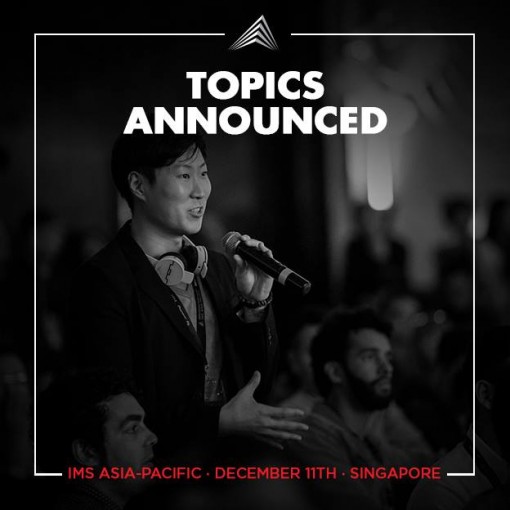 IMS AP 2015 TOPICS
The IMS speakers will come together in distinct panels to spark thoughtful conversations, and tackle vital and current topics that impact the region. With some 30 artists and industry players expected at IMS AP 2015, the event serves as a perfect opportunity to unite the industry, as well as to educate the wider world about the opportunities, challenges and current successes of the region.
The topics are:
Saving Sydney – Hear about how their scene has been decimated and how to stop it from happening to yours.
Protect The Dancefloor – Deeper discussion about the entire-region and the scene's challenges to operate.
East Meets West – Artists from both side of the planet discuss Asia and how they approach conquering the region.
Developing The Eco-System – AFEM reviews how the Asia-Pacific eco-system is evolving and how to unblock key pathways to success.
Keynote Interviews – Armin van Buuren and Kaskade under the spotlight.
In Conversation – Sharam of Deep Dish fame with the Head of Beatport Asia, Richie McNeill
New Horizons – Presentations on key new initiatives in the region from ID&T, Pacha Macau and others.
BUY BADGES
IMS AP Badges [includes access to all panels, a buffet lunch and cocktail party] are priced at:
• 110€/S$168 Early Bird Special [Sold Out]
• 130€/S$198 Normal Badge
Available on www.internationalmusicsummit.com